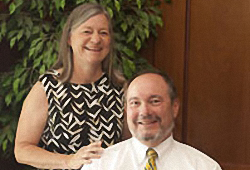 Marcia Comeaux Barr '72 and Cameron Barr '70, '71 met on a blind date while attending Southeastern and have been a couple ever since. They have also been strong supporters and advocates of their beloved Southeastern and their fraternity and sorority, Sigma Tau Gamma and Alpha Sigma Tau, since graduating and moving through their respective careers.

Marcia and Cameron both share a strong commitment to the value of education as well as to the teaching profession. Marsha chose the field of education, and recently retired after 30 years of teaching elementary physical education. Cameron graduated from Southeastern "College" in education as well, and went on to secure his graduate degree from Southeastern "University" and a second graduate degree from Tulane University in 1975. He is currently executive vice president of the Methodist Health System Foundation.

Because of the significance the Barrs place on a Southeastern education, Marcia established the Marcia C. Barr Endowed Scholarship in Kinesiology in 2004. Recently, the Barrs learned of the Louisiana Board of Regents Endowed Undergraduate Scholarship Program for first- generation college students. The Program is a non-competitive program providing state matching funds to establish endowed scholarship funds in support of first-generation college students. Each four-year institution is guaranteed one $40,000 endowed scholarship fund challenge grant annually to match either a private or organization's contribution of $60,000.

Marcia was the first to attend and graduate from college in her family. And so, it is only fitting that earlier this year, the Barrs established a second endowed scholarship, The Marcia and Cameron Barr First-Generation Endowed Scholarship to benefit a first-generation Southeastern student. Cameron said "It is our hope that the students that eventually receive our scholarship will treasure their education and will then in turn, give back to the University, benefiting future generations of students. Marcia added, "Cameron and I support charities and schools, if everyone could give just a little, it would add up and make a huge impact."

Krishina Wallace, a first generation scholarship recipient, said, "Had it not been for the first generation scholarship, I would not have had the opportunity to attend Southeastern and be a part of the best nursing school in the state of Louisiana. As a first generation college student, my family feels I am creating a better future for my son while paving the way for my siblings."

Wendy Johns Lauderdale, M.A, CFRE, vice president of university advancement said, "The Barrs' thoughtful and dedicated generosity sets an amazing example of what philanthropy can accomplish. They lead by example and set a high bar to follow. A student's life is shaped by his or her college experience. Just imagine the impact a first-generation scholarship has not only on the student's life, but the lives of the student's entire family. A first-generation scholarship raises the bar, establishes new dreams, and inspires siblings, neighbors and communities to reach higher. Let's all follow the example of Cameron and Marcia - and raise the "Barr."