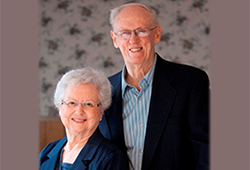 Much has changed in the world during Mary Lou and Bill '52 Champagne's 65-year marriage, but the things that really matter remain consistent: their commitment to one another and their family, their love for Southeastern and Mary Lou's passion for dance.

Bill, the son of a small-town grocer, and Mary Lou Pravata, daughter of a New Orleans candy manufacturer, met while she was a student at Southeastern College and he was still in high school. He followed her to Southeastern and they married in 1948, at the end of his first semester.

Since then, the Champagnes have been blessed with successful careers, three sons, four grandsons, two great-granddaughters and a long, happy life together. Mary Lou did not finish at Southeastern due to the birth of their first child, and she went on to own a successful dance studio.

The Champagnes believe in sharing their blessings through philanthropic support. Several years ago, Bill decided to honor his wife through a memorial gift to Southeastern. The Mary Lou Champagne Endowed Scholarship in Dance/Theater is the first Southeastern scholarship specific to this discipline.

"We wanted to give back and to provide benefit to students for a long time to come," Bill says.

Bill and Mary Lou are grateful for the opportunities they received at Southeastern, and they want to provide opportunities to today's young people, particularly those with interest and talent in the arts.

"Southeastern has so much to offer to its students and the community," Mary Lou says.

Southeastern's long tradition and strong foundation of helping students achieve their dreams continues today, helped by the generosity of donors like Bill and Mary Lou, who provide additional funding each year for their endowed scholarship.