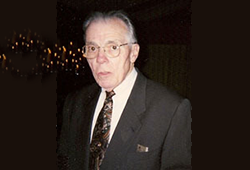 Have you ever been affected by a random act of kindness? Maybe a thoughtful person took the time to prepare a meal for you when you were sick or buy you a cup of coffee because you were waiting in line behind them. It's a marvelous feeling.

Imagine being on the receiving end of a generous gift, from a gentleman you have never met. That's exactly what happened last Fall 2011 when the Southeastern Foundation learned it was to be a beneficiary of Holman Hemby Morgan's estate and received $150,000 in support of Southeastern students and the College of Education and Human Development.

Mr. Morgan, known as "Hemby", was born in Hammond. His father owned a grocery store that he worked in on the corner of N. Lynden and W. Thomas Street (Morgan's Store-later became Harry's Grocery Store). Freshman classmate, Virginia Langston recalls that "Hemby was one of only two boys that continued enrollment at Southeastern at this time. It was 1943, during the war, and there were only about 240 students enrolled. Hemby's first job after graduation was teaching science at Breaux Bridge High School." In 1956, he became the head of Safety Education for the Louisiana Department of Education and continued a professional relationship with Southeastern.

"I had the good fortune of seeing him regularly, Dr. Langston continued, he was always thoughtful and a gentleman. He traveled extensively to Europe, the Orient, all over the world and he was always very grateful for the education he received at Southeastern and his great admiration for Southeastern."

Because of this truly thoughtful gentleman, Southeastern now has three lasting funds - an endowed professorship, an endowed scholarship, and an endowed first generation scholarship - all of which promise that Holman Hemby Morgan and his parents James Ernest and May Hemby Horgan will forever be remembered.