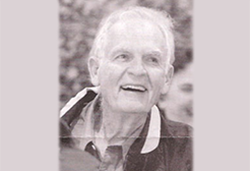 It was a lucky day for Southeastern when Jack Weeks "J.W." Jones changed the direction of his college plans and got off the train in Hammond. For the industrious young man with far-reaching potential, Southeastern was the beginning of a journey that would take him around the world as a successful businessman, returning him full circle to his alma mater, where he established a lasting legacy in memory of his loved ones.

Jack grew up in a loving family of modest resources. As a high school student, he spent summers with his grandparents while working at a packaging company. Even at such an early age, he had a keen entrepreneurial spirit. Locating a small shed on the company grounds, he turned it into a country store.

After high school, Jack joined the Navy, but his adventure was cut short when he was discharged because of illness. He then decided to attend the University of Miami. On the trains to Miami, however, he met a Navy cohort who was Southeastern-bound. Jack decided to follow suit-to Southeastern's good fortune.

At Southeastern, Jack proved to be an active and successful student. He established Southeastern's first fraternity for military veterans, Alpha Omega, was active in the Student Government Association and was president of the senior class of 1949.

Jack continued his education by earning a Master of Business Administration degree from the prestigious Harvard School of Business. As director of training for Esso Corp. until 1969, he traveled extensively throughout the world.

He said he decided to leave his position, "because I realized that I was one of 75 individuals that aspired to be president of the company," and because he was weary of the 90-minute commute between New Jersey and New York.

Next, he embarked on a career as a real estate developer in Central Florida. After many successful years, Jack cashed out his interests and made plans for yet another career change-an active and meaningful retirement.

Jack utilized his interest in flying to inspire drive, ambition and spirit in economically disadvantaged youth. With the help of his wife Barbara, his son, Jonathan, and with funding from the U. S. Department of Labor, for the next 12 years he developed summer training programs providing flying opportunities for economically disadvantaged youth.

"The end result was that these kids realized they could accomplish something," Jonathan says. "We used aviation to get youth interested in education in math and science. This program touched the lives of over 10,000 youth across the United States."

Jack's final retirement also afforded him the opportunity to obtain a pilot's license and to spend time as a thoroughbred race horse owner.

In 2007, Jack generously created two endowed professorships in his parents' memory. The professorships are the Elizabeth Weeks Jones Endowed Professorship in Humanities and theBenjamin Paul Jones Endowed Professorship in Retailing.

Jonathan says his father's generosity reflects his love for Southeastern and his firsthand knowledge of how education can benefit today's youth. The professorships will provide professional development opportunities for outstanding Southeastern faculty members, opportunities that they in turn pass on to their students.

Jack passed away in December 2007. He is survived by his wife, Barbara Friley Jones; His son, Jonathan McLeod Jones, and daughter-in-law, Deborah; his granddaughter, Darcy Leigh Jones; and his grandson, Rhyne McLeod Jones.