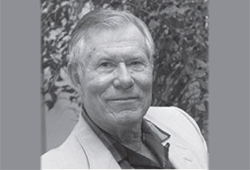 James McClimans is the son of Dr. Jay W. McClimans, the first head of Southeastern's department of mathematics. A retired Shell Oil executive, James and his wife, Marilyn, are great friends to the university. The McClimans recently established a planned gift funded with retirement assets that will one day provide a second legacy to James' father through the Dr. Jay W. McClimans Endowed Chair for Mathematics.

Not so far from Southeastern's legendary Friendship Oak stands the first tribute to Dr. McClimans. Jay W. McClimans Hall, home of Southeastern Computing Services, was dedicated in 1981. The building is a legacy to a man who devoted more than 20 years to teaching mathematics to Southeastern students.

"Marilyn and I initiated this gift to Southeastern as a symbol of the love my family has for this fine institution," James says.