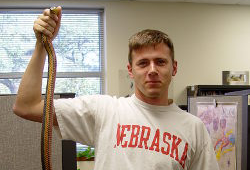 Joe Ramspott had a love of learning and a zest for living from day one. "Joe had a subscription to Zoobooks from National Geographic as a child. He devoured those magazines. You could ask him almost anything about animals and he had the answer," said his mother Pam Ramspott. He was an avid outdoorsman and did everything possible to enjoy the outdoors. He loved hiking, mountain biking, spelunking as well as playing basketball and football. As his father, Ed, noted of his drive to excel in the outdoors, "Joe virtually pushed me up to the top of Long's Peak [a 14,000+ foot peak outside of Denver], and he was only ten years old." Joe had a passion for life.

After graduating with a degree in fish and wildlife management from the University of Nebraska at Lincoln, Joe followed his girlfriend to unchartered territory. He came to Louisiana. He worked for a while and explored the area as he looked for his next steps. After meeting Dr. Brian Crother and building a strong relationship, Joe knew he wanted to follow in Dr. Crother's footsteps. Joe applied to graduate school and received the Lisa Aucoin Endowed Memorial Scholarship in Herpetology. He entered to earn a Master's degree specializing in Herpetology. This step satisfied his love of animals and learning, and he was incredibly proud of being awarded the scholarship. Lisa Aucoin was a student who died in a car accident in 2001 and whose parents started a scholarship in her name.

Once in graduate school he would report back home that not only was he enjoying the classroom, he was taking to it so well that he was able to reach out and help other students. He had certainly found his calling and embraced the new experience as he did everything else in his life, with passion.

Joe's time at Southeastern was pivotal in his life. He knew that he wanted to continue his education and as he neared completion of his degree here at Southeastern, he was pursuing acceptance into the Ph.D. program at Washington State University.

Joe made many friends and built close relationships with other students and faculty mentors. He was close to Dr. Crothers, Rob Moreau and Bob Augustine among others. It was obvious to all that Joe was heading towards success. His simple love of life gave him the positive outlook and daily desire to seek out something new that would take him to greater places.

Tragically, Joe passed away on March 27th, 2004. His life with so much promise and with so much to offer was cut short. His parents did everything possible to ensure that Joe's passing was not the end point of his life, but a new beginning. His organs were donated so he helped multiple people live on or live better lives through his gift. Ed and Pam created a scholarship for students in Joe's name so that others had opportunity as well.

"When we receive the letters from the recipients of Joe's scholarship, it's almost like we are getting a letter from Joe. It really warms our heart."

From Joe's far too short life, much came. His name lives on so that students generations from now will still have access to the same education that meant so much to him. He left an indelible memory with all of those who grew close to him and he gave the final gift of his own body so that others might live.

The Joe Ramspott Memorial Scholarship has been awarded since 2005. Nine students have received the scholarship and seven have already graduated.