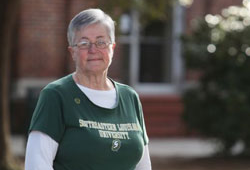 "When I was only 19 years old I began my career at Southeastern Louisiana University. The university gave me the opportunity to enjoy 30 years of meaningful and enjoyable employment. My long association with Southeastern led me to make a commitment to the university and I chose to include Southeastern in my estate plans.

Southeastern means so much to so many in our community. It offers employment to many, such as me, who are able to find careers here at home that serve a greater purpose far beyond just earning a paycheck. At the same time Southeastern gives young people from all over the region and state a wonderful opportunity to receive an excellent education that prepares them for their future.

When I think about Southeastern I am amazed at the many ways it enriches our city and area. I enjoy attending collegiate athletic events that are available at our here very much. I also enjoy cultural offerings that can be found on campus.

I realize that over the past several years Southeastern has had to endure budget cuts that have been a challenge for the school's administration to meet. I believe that all those who can possibly support our university financially should do so.

I would encourage those who are making their estate plans to include our university in those plans. I know that funds left for Southeastern will be used in the best way possible to have the greatest impact on students. There are so many needs at the university. I chose to designate my endowed scholarship in support of athletes who may need assistance. Because I enjoy Lion baseball so much, I chose to dedicate my support for athletes who play baseball. Additionally, my initial job at Southeaster was secretary to the Sports Information Director so athletics have always been close to my heart. At that time the Director was Larry Hymel, someone for whom I hold in the highest esteem. He gave me the opportunity to show that I could be part of the Southeastern family. For that I am most grateful and his kindness demonstrated how great Southeastern is.

I consider it an honor and privilege to be able to do my small part in supporting our great university."