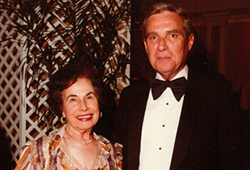 "Seth Ryan was a reclusive, quiet, intelligent, generous gentleman."

"Thelma 'Mac' Ryan was a vivacious, fun loving woman that lit up a room."

The lives of these two very different Slidell, LA residents would have an impact on friends and family for sure, but would ultimately lead to the largest single donation Southeastern Louisiana University has ever received. Seth Ryan, Mac's husband of over 25 years, would leave most of his sizable estate to the university to honor the love of his life and ensure that women in future generations would have access to a quality education in her name.

The story starts long before the gift.

Thelma 'Mac' McNamara, a New Orleans native, met and fell in love with Charles Nicaud, Jr. in the 1930's. At the time of their marriage in 1939, Charlie, as he was known, was a pharmacist and manager with the Katz & Besthoff company that would soon become the regionally ubiquitous K&B. Charlie's father, Charles Sr., was a long time New Orleans pharmacist as well. Together, Charlie and Mac would launch and own multiple independent pharmacies in the New Orleans area. Having no children, their time was spent enjoying the company of friends and family. Mac loved being around people and was always up for an adventure. She loved to travel and loved animals. She and Charlie worked the stores themselves building up their success.

Charlie and Mac purchased their home and acreage along Bayou Liberty after having been married for a while. Soon, they spent much of their time at the new home, custom built for them, that overlooked the bayou which wrapped around most of their acreage. Enhancing the beautiful wooded setting, they created a large walkable garden that was a refuge from the city life they had across the lake.

During what was certainly a busy time in their lives, Mac always made time for fun. She loved animals, family, friends, playing cards, attending social events and riding horses among many other pursuits.

Charlie passed away in the mid 1960's leaving Mac on her own in the home she so adored. Little did she know at the time, but her future was just up the bayou in the form of a tall, quiet gentlemen she came to be fond of: Seth Ryan.

Seth, an independent investor, lived nearby with his aging parents. His family knew of Mac, as her gregarious personality gave her a wide circle of friends. According to long-time friend Nick Chetta, Jr., Seth told the story many times that he first became interested in Mac soon after a hurricane passed in the mid-60s. The wooden lawn furniture from his parent's home floated onto Mac's lawn after the storm. Seth went to her door to claim his furniture and the seeds for a long-term love were planted. For Seth, Mac was an exciting and adventurous woman that he fell for quickly.

Seth and his family's earlier years were spent in their home area of the Mid-West, Seth growing up in Gross Pointe, Michigan. His father, an insurance executive was transferred to New Orleans in the mid 1940's,and the family eventually settled in Slidell not too far from Charlie and Mac. After graduating high school in New Orleans, Seth made his way to Southeastern, earning a degree in Accounting in 1953.

"They were a perfect balance to one another," said long-time friend and associate Rick Normand. "She was always on the go, and he was more of the wall flower." They brought out the best in one another and shared a true love and partnership. They travelled together — always at Mac's urging. "They dined in fine restaurants, attended cultural events and performances and enjoyed their times together," said Rick.

As Mac became seriously ill in the late 80's with multiple incidences of cancer, things started to change for Seth. Nick recounted that Seth stayed by Mac's bedside during her final illness. "He stayed at hotels in New Orleans to never be too far from her." Mac passed away in 1994, and Seth found himself alone in their home on the bayou.

According to long-time neighbors Chris and Cheryl Nogues, Seth felt the loss deeply. "He was really devoted to Mac and when she passed away, he withdrew and kept to himself a great deal. He put on a curmudgeon exterior, but deep down he was a very kind, generous 'softie,'" said Chris.

Over many years, he had a small circle of friends that came to include Rick and Liz Normand, Chris and Cheryl and a handful of others whom he came to enjoy time with. While his home was still his refuge, he had a few places that at which he felt just as comfortable.

"Galatoire's, Ruth's Chris and Sal & Judy's," noted Rick, Nick and Chris and Cheryl in different conversations. "He loved to take close friends to dinner and make an event out of it," said Rick. Cheryl recounted that Seth would call them on a Sunday with, "You kids free today?" That meant a trip to Galatoire's.

A man of routine, the staff at these restaurants had a table ready for him with an Old Fashioned ready when he sat down.

"He preferred to be at home, but when he went anywhere it was first class," said Rick. Usually keeping to himself at the bayou home, when he did go out or travel, he wanted to enjoy it to the fullest. But he was not ostentatious or a show off with his wealth.

All agree that Seth was 'a man who never really felt at home in the modern world.' "He was a true gentlemen in the 19th century manner," explained Rick. When Seth spent money, it was on others just as much as himself. At home, he was frugal — not to be 'cheap' — but because it was a part of his character and virtue.

He loved collecting guns and travelling regularly to his family farm acreage in Illinois to hunt. His home was full of gun collecting books and magazines with plans always to find something custom made or rare.

"Seth was such an interesting man in so many ways," said Chris. Seth's kindness to others was something that everyone also noted. "I don't think he had an enemy in this world. To the people he knew he was a genuine friend," said Nick.

Nick grew to know Seth more and more as his mother, Dee Nunez, grew to be a close companion with Seth. Mac and Seth were good friends with Dee and her husband, Albert. After Mac, then Albert, passed away, Seth and Dee became close and enjoyed a common bond in their friendship. Nick and his mother spent a good deal of time with Seth.

One other thing about Seth that all of his friends knew, he was never fond of taxes. "He just knew the people in Washington D.C. were not going to take care of his money," noted Rick. In the early 2000's he began considering what he would do to distribute his wealth once he passed away. This is where Southeastern comes back into the picture of Seth and Mac.

Seth mentioned to many that Mac was always disappointed that she never attended college. At the time she would have entered as a young woman, she just could not afford the cost. It was something she regretted during her entire life. Seth, on the other hand, was able to attend Southeastern. Chris said he was emphatic that his education at Southeastern was a key to his ability to be a successful investor. Rick also noted that he often talked fondly of his time while earning his degree.

As Seth was beginning to consider his options, Wendy Lauderdale, then Director of Development under Vice President of Advancement Joe Miller, launched a new initiative in 2003 to communicate the opportunities and value of planned giving — including gifts to the university in one's estate. "Fortunate for both Seth and Southeastern the timing was perfect," said Lauderdale. It was at this point when Seth saw that he could accomplish many things in one opportunity. This would minimize the taxation on his estate — something he was very happy about — it would honor Southeastern, a place that meant a great deal to him, and it could honor Mac in one of the best ways possible, by ensuring future women did have the opportunity she did not.

Rick Normand, the longtime friend, was also Seth's attorney. Seth let Rick know that he wanted to give the majority of his estate to Southeastern with one stipulation, "he had to remain completely anonymous until his death," said Rick. Being the quiet, reclusive gentlemen that he was, he did not want any honors or accolades, and he did not want to be on anyone's radar to start getting solicitations for his money.

Lauderdale recalled that Rick contacted her with the information that 'an anonymous donor would like to include Southeastern in his will, but must remain completely anonymous.' As is standard practice in the advancement and fundraising disciplines, one should always thank and steward a donor as a way of sincerely acknowledging a gift or commitment. Seth's requirement made any direct contact impossible. Lauderdale had to always work through Rick, communicate through Rick and completely trust in Rick. "Over time Rick and I built a relationship in the stead of a direct relationship with Seth," said Lauderdale.

Years before his passing, Seth decided to start an endowed scholarship with a sizable donation. "His personal check arrived in our office, clearly identifying our anonymous donor," said Lauderdale, "but the instructions from Rick regarding no contact remained the same. The hope of ever meeting Seth had to remain just that, a hope." Fortunately, his new endowment did provide an opportunity to communicate with Seth. "Scholarship recipients write to their scholarship donors and we were glad to know that Seth would see these letters — albeit through Rick," said Lauderdale. So the mysterious nature of Seth Ryan remained in place.

Seth became seriously ill during 2015 and ultimately entered a nursing home facility when he could no longer live alone. He passed away in January 2017 and only then did the magnitude of his generosity become known. With a total estate in excess of $14 million, he left over $10 million to Southeastern including the home and property that both he and Mac so dearly loved.

Seth, being one to make sure to not let control go even after his death, made it clear how the funds could be invested and for what they could be used. Funds were to be conservatively invested to the principle balance would not be put at risk, with the earned money going toward scholarships for women in career-orientated fields. He honored his beloved Mac by giving women the chance she never had.

Southeastern President John Crain commented, "Seth Ryan's deep generosity will benefit female students in perpetuity. In honoring his wife, Mac, he has established a legacy that will provide generations of women with the opportunity to benefit from strong careers and better futures."

Southeastern will ultimately be able to create hundreds of scholarships in business, science, education and medical fields that will be here, in the name of Thelma "Mac" Ryan for generations. To honor this legacy, Southeastern will name the current biology building after her.

The love of a quiet old fashioned gentlemen for his gregarious outgoing wife will be commemorated by providing others with opportunity that can be life changing. In the success of hundreds of women in the future, Seth's love for Mac will never die.