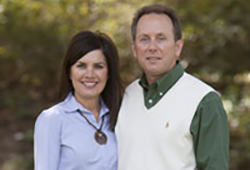 Annette and Andre Theriot believe that "Southeastern is a vital economic engine" for the greater Northshore community.

When higher education is at its best, it helps set a strong foundation for the lifelong personal and professional success of students. Annette (Distefano) Theriot received that foundation as an undergraduate at Southeastern Louisiana University, where she started in the fall of 1981.

"Not only did Southeastern provide me with the tools I needed to pursue my education, it was truly my home away from home," Annette says. "Because it was a smaller university, I didn't feel like a number but an actual person. The campus has grown immensely, but I think today's students feel the same way. I'm proud to be a part of the Southeastern family."

Annette went on to graduate from the LSU School of Dentistry in New Orleans and has been a practicing dentist for 20 years. She and her husband, Andre, an LSU graduate and an investment/financial advisor, live in Hammond with their children, Alexis, 14, and Alex, 13.
Higher Education Is Key to Community Success
Recently, the Theriots decided to give back to Southeastern through both a current gift to the Annual Fund and a planned gift to the Foundation. Knowing that higher education is the key to economic growth, they want to make sure the university has the resources to provide high quality programs to its students for decades to come.

"The funding challenges that Southeastern and many universities within our state are facing, and the sacrifices that are being made, have been well publicized," Andre says. "Even so, Southeastern continues to be well positioned to deliver a great educational experience for all students."

Natives of southeast Louisiana, the Theriots grew up in the Denham Springs area and attended Denham Springs High School. They believe the best days for Southeastern and the I-12 corridor are yet to come.

"Southeastern is a vital economic engine not only for Hammond and Tangipahoa Parish but for the greater Northshore area. We believe it's in the best interest of our communities to support Southeastern today and in the future," said Andre. Through the generosity of donors like the Theriots, Southeastern will be able to fulfill its mission to serve the citizens and communities of our region, the state of Louisiana and beyond.