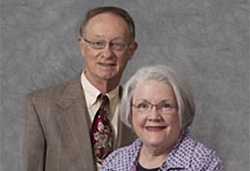 It would be difficult to find someone closer to Southeastern than Ralph Shaw. As a child, he grew up on N. Pine Street, about six blocks from campus, in the house where he was born. Later, he attended Southeastern as an undergraduate and graduate student, and then began a 40-year career teaching chemistry.

"I had no regrets in my career choice-great job satisfaction in teaching," said Shaw, looking back on his many years on campus. "I enjoyed it so much that I taught a night class for another five years after I retired in 2003."

Now an emeritus faculty member, Shaw and his wife, Nancy, who met at Southeastern, want to give back to the university. As a scholarship recipient himself, Ralph Shaw wants to help other students pay for college. He has a particular interest in assisting non-traditional students.

"I initiated undergraduate, off-campus night classes, which were populated heavily with non-traditional students," he said. "When I taught evening freshman chemistry, many of my students were working on getting into the highly competitive nursing program. I found them to be goal-oriented, mature and motivated, but I also became aware of the challenges they faced to obtain a college degree." Those challenges included paying for school, working part-time or full-time, and often raising families while students.

The Ralph and Nancy Shaw Endowed Scholarship is designated for a non-traditional student, preferably a single parent, who is a full-time undergraduate with at least junior standing and a minimum 2.5 grade point average. Recipients will be selected by the University Scholarship Committee.

Ralph Shaw started teaching at Southeastern in 1963 with a master's degree and earned his doctorate in 1972 at the University of Southern Mississippi. Nancy Shaw earned her master's degree at Southern Mississippi, taught high school home economics in Ponchatoula and later became a faculty member at Southeastern in Family and Consumer Science.

"Southeastern has been good to us," Shaw said. "I'm glad to be in the position where I can give back. I hope this scholarship will do some good and help some students finish their degrees."